Mylee Pro Salon Series LED Lamp Convex - Black
Mylee Pro Convex™ LED Nail Lamp
Cures Gel in 15 Seconds  •  50,000 Hours Lifespan  •  2 Year Warranty  •  Worldwide Compatibility
The Mylee Pro was engineered with 3 things in mind - curing speed, experience, and customer feedback from the previous model. Boasting the latest Convex™ LED technology, paired with advanced 365-305nm double light source technology, the Mylee Pro delivers an expert, hassle-free cure in just 30 seconds.
ULTRA-FAST 15 SECOND CURE - Innovative Convex™ Technology cures gel in a fraction of the time compared to conventional UV/LED lamps. Perfect for both manicure and pedicure, thanks to the wide curing window and detachable magnetic tray.
DESIGNED FOR PERFECTION - A unique dome design with perfectly positioned LED bulbs for even light distribution, engineered for a fast, salon-worthy and hassle-free cure. Features 3 timer pre-sets for 15, 30 and 60 second curing cycles.
TRAVEL-FRIENDLY - The first lamp on the market with worldwide compatibility, complete with UK, US and EU plugs, making it perfect for those of you who're always on the move. Mylee Pro is compact and perfect for mobile therapists.
SKIN AND ECO FRIENDLY - Mylee Pro is powerful and yet efficient, boasting environmentally-friendly LED technology with a 50,000-hour life span and low heat emission; superior to other lamps that produce harmful UV exposure.
24 MONTHS WARRANTY - Exclusive 2 year manufacturer's warranty when purchased from Just Beauty. The lamp is compatible with all gel nail brands, including CND Shellac, Bluesky, Gelish, OPI, Gellux, IBD, Essie and more.
---
Product Details:
  •  Ideal for home or salon use
  •  Removable metal tray, perfect for pedicure and maintaining hygiene
  •  Wide curing window comfortably fits all 5 fingers at the same time
  •  Pre-programmed 15/30/60 second timers
  •  UK, US and EU power outlet compatibility
  •  Eco-friendly and energy efficient
  •  12-month warranty from date of purchase
 Please note the base plate is coated with a blue protective film. Remove this to expose the reflective plate and ensure and expert, hassle-free cure.
Specification:
  •  Wavelength range: 395-405 nm
  •  Voltage: 100-240V AC, 50/60Hz
  •  Lifespan of LED bulbs: 50,000 hours to life
  •  Dimensions: 205cm (L) x 105 (H) x 160cm (D)
---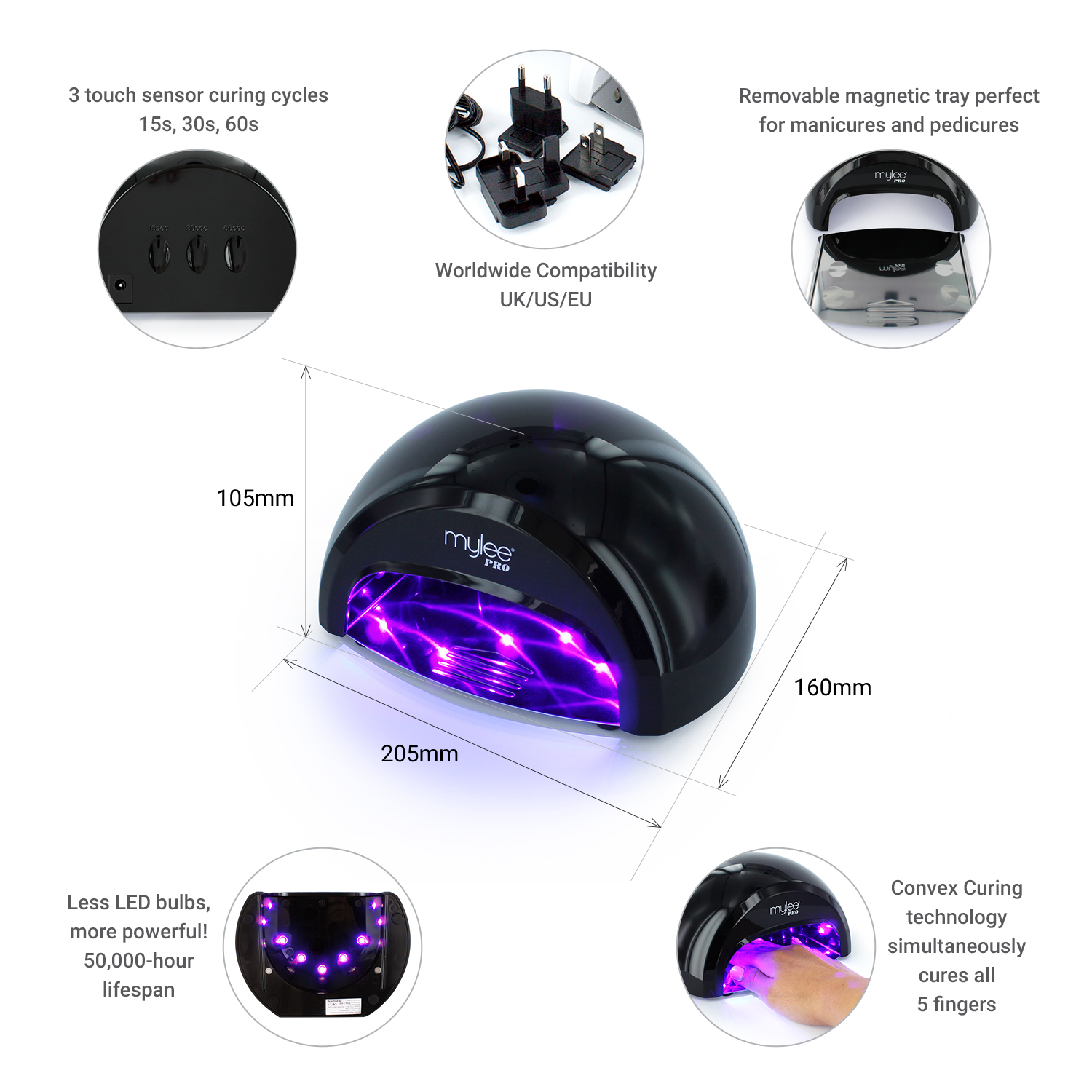 ---
Box Contents:
  •  User Manual 
  •  Worldwide-compatible Power Supply
The new Mylee Pro is backed by an exclusive 2 year manufacture's warranty when purchased from Just Beauty (if purchased from elsewhere, the warranty is only valid for 12 months). Proof of purchase will be required.